We are seeking staff who believe, as we do, in every Ocean View client living the life they want in a place that feels like home. We invite job seekers to join us at our upcoming Hiring Blitz for an on the spot interview to join our team!: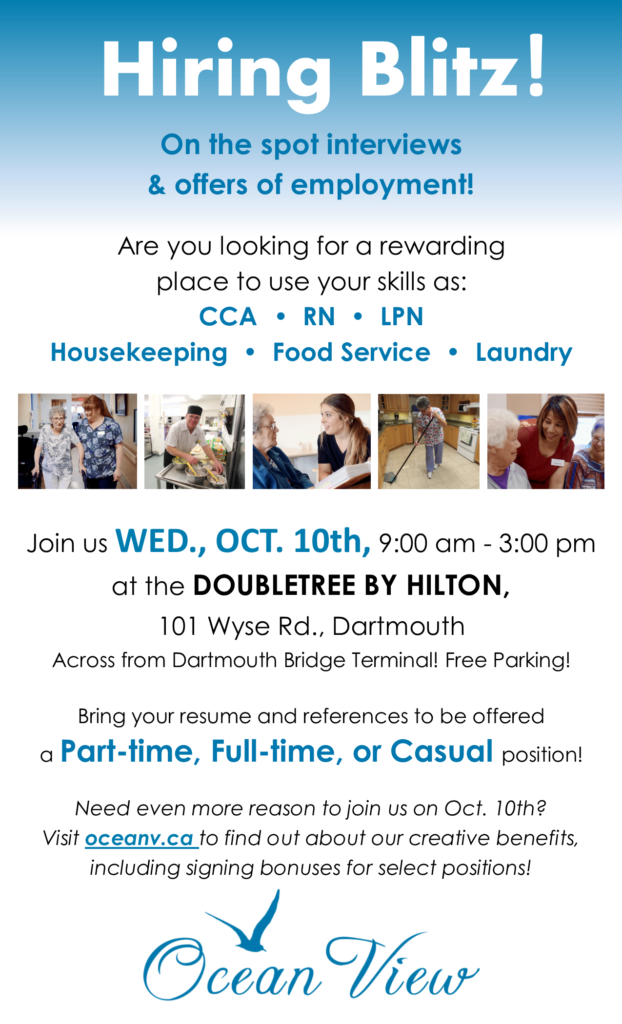 To help wonderful and dedicated staff make the choice to join our team, we offer competitive and creative compensation and benefits packages! Want examples? When we considered the amazing potential staff living in other provinces, we implemented relocation assistance for PSWs, to help them help us provide comfort, care and compassion! We looked thoughtfully at the job market, and now offer signing bonuses for those positions that work closely with our residents day-to-day and are in high demand – CCAs and RNs. We listened to the unique needs of our casual staff, and now offer 10% vacation pay to this group in lieu of vacation time. And Ocean View is proud to be a Designated Employer as part of the Atlantic Immigration Pilot Program, helping us to fill hard-to-recruit positions with skilled immigrants who are eager to join us in offering comfort, care and compassion to those we serve.
Are you looking for a meaningful role with meaningful benefits? Visit our careers section to find out more: Current Opportunities!