September is Continuing Care Month, and we're excited to celebrate this month by shining the spotlight on some of the amazing staff who help us offer excellent care to our clients day-to-day.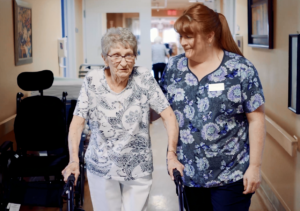 Tracey has worked at Ocean View for more than 20 years, and in that time she has developed a true passion for finding new and better ways to help our residents live their best life at Ocean View.
"Everything is changing, ever changing, and we want things to be the best for our residents here," she explains, "We want to find the new things that work. We've done lots of changes here at Ocean View and a lot of them are working really well."
What inspires her to keep learning, innovating, and putting everything she has into her day at Ocean View? The sense of community!
"I do have a real sense of community here," she shares, " I love the residents first and foremost. I love the feeling I have from the staff, the trust they put in me, the trust I put in them… For me the most rewarding part of this job is the giving and the receiving of love. The trust. The generosity of the souls."
Are you looking for a position where you can feel this kind of sense of community? Visit www.oceanv.ca/join-our-team today!