CEO's Award of Excellence
In keeping with the philosophy of recognizing outstanding staff contributions to service delivery and building the employee recognition program, the CEO developed the "CEO's Award of Excellence". The award is issued to an employee who has been nominated by a manager and colleagues for outstanding contributions to Ocean View in the delivery of its services.  This is a quarterly award and we are pleased to announce that the recipient of this quarter's Award of Excellence is: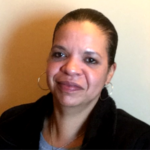 Jenine Glasgow, Continuing Care Assistant

Jenine was nominated by a co-worker for her hard-work, compassion and dedication
to Ocean View and our residents.
She shows consistent care and respect for others on a daily basis.
Her co-worker is quoted as saying, "I know when Jenine is present my day is going to be pleasant.
She's a prime example of what is expected of an employee."
Congratulations, Jenine, on living the values and mission of Ocean View in your work life!