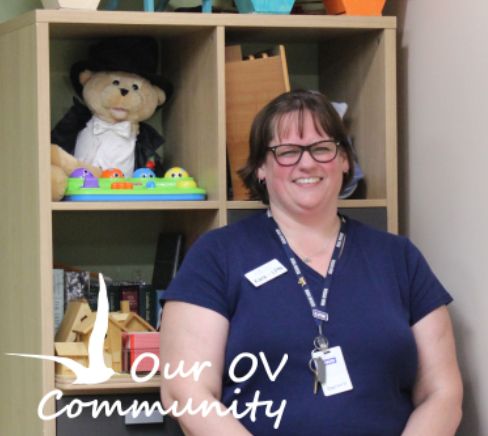 Meet Kara, one of our amazing LPNs and an important member of our Ocean View Community.
Kara knew at six years old she wanted to work in healthcare.
"I told my Mom, 'I'm gonna be a nurse one day!'" she remembers.
Since becoming a nurse, Kara has worked in the dementia unit at Ocean View. Although the role is stressful, Kara says the residents make it worth it. She remembers one resident in particular who had a big impact on her:
"He was quiet when he first came. He had a hard life," she shares. This particular resident had low self esteem because of a life-long physical deformity.
"I thought he was funny and kind. We chatted all of the time," says Kara, "He said I was the only one to give him a chance and see beyond his physical appearance."
Kara's passion is working with those with dementia. She believes part of her role is helping them adjust in a world that no longer makes sense to them.

"You have to be very creative," she shares, when asked how our value of innovation influences her work. It can be something as big as development of Nana's Nook, a secure spot where residents can have some safe alone time. Or it can be something as small as coming up with a kind and respectful response to a resident's complicated request. A great example? She recalls one resident who was adamant he needed a plane ticket.
"I made a ticket on the computer for him with the info he told me. It took a bit of work," she laughs, "I gave it to him and he said 'Air Canada!? No, I'm not flying with them!'"

"I came back later with a ticket from Ocean View Airlines – he thanked me!"

Kara is just one of so many nurses making a difference in the lives of our clients, and clients across the province. She is truly committed to care. Her big heart makes her a valuable member of our team!