September is Continuing Care Month, and we're excited to celebrate this month by shining the spotlight on some of the amazing staff who help us offer excellent care to our clients day-to-day.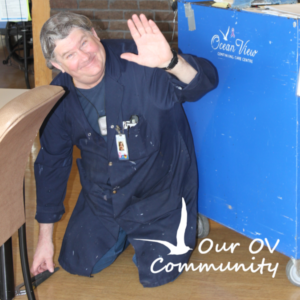 Rob loves the connections he has made with residents over the years. Learning their stories has been a source of awe and inspiration.
He remembers a resident who was "just like you'd picture a granddad", who told him the hilarious story of going to work on a local ship that was headed to Sydney… only to find out after more than a week at sea that they were headed to Sydney, Australia, not Sydney, Cape Breton! "His poor wife," Rob laughs!
He remembers another resident who could no longer speak who formed a strong and surprising bond with one of our resident birds. "There was so much pure happiness in her eyes from that simple interaction," he recalls fondly.
And yet another who spent a harrowing 6 hours in the frigid ocean after the ship he was aboard was bombed during the war. "They've got so much to offer," Rob explains, "When you're listening to them, it's like you're there!"
"You learn how much you can love people here," he says, "Now I know how much compassion I have for someone on that last path."
When Rob's own mother was aging and they were considering long-term care, he brought her to Ocean View. Thanks to a job that brings him to every corner of our facility, he was confident he knew the care she'd receive here: "I'm everywhere, all the time," he says, "And what I see is a lot of compassion for our residents."
"I love it here. I love my job."