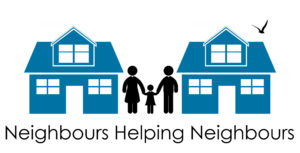 We believe in Neighbours Helping Neighbours! Those who join our Neighbourhood Network enjoy a sense of belonging and community. Ocean View has been a part of the wonderful community of Eastern Passage for more than 50 years, so we know how important connections can be. Our Neighbourhood Network aims to keep those 55 and over in our community connected, while supporting our local seniors in aging safely, comfortably and more affordably in their own home.
Those who belong to the Neighbourhood Network enjoy:

• Connection to a diverse and wonderful group of people who also believe in Neighbours Helping Neighbours. From volunteers, to vendors, to fellow members of the Network, it's a community of people intent on helping each other and embodying the idea that "it takes a village".
• Access to various services aimed at supporting all community members to live safely and comfortably.
• Connection to trustworthy local businesses! Over 90% of our vendors are from your community, and have joined the network to offer a helping hand to those living in their own back yard. These vendors offer discounts on many services – from transportation, to home repairs, to veterinary services, and have been vetted by dedicated Ocean View staff to ensure those in our Neighbourhood can trust they'll receive reliable and quality service!
• The opportunity to support others by volunteering your own time and talents.
• Help coordinating services – members only need to know one number, our dedicated Ocean View staff will help set up appointments and services to support your needs!
Why does Ocean View believe so strongly in offering all of this to seniors in our community through the Neighbourhood Network? Click here to learn more about the inspiration behind the Neighbourhood Network.
Do you believe in Neighbours Helping Neighbours? Are you over the age of 55? Join us Today!
Our Yearly Membership Fee makes you an official part of our Neighbourhood Network community for the membership year:
Individual Membership
For one person for one membership year
$34.50 (tax incl) Buy Now
Household Membership
For two people living in the same household for one membership year
$46.00 (tax incl) Buy Now