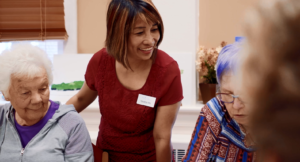 The Ocean View Adult Day Program provides adults 50+ an opportunity to engage in meaningful activities that ultimately support their ability to remain at home as long as possible. The program will help sustain and/or build existing life skills and supports, as well it will reduce loneliness and isolation that many older adults experience in the community. All programming is planned and facilitated by a therapeutic recreation professional, specifically developed to meet the needs of the clients in the program. Read our feature story, Jack's Journey, to learn more about how the program benefits participants and their families.
The program also provides respite for the family caregiver, so they can enjoy some personal time while their loved one is cared for by professional and experienced staff. This program is suited for adults, age 50+, who have a medical diagnosis such as, but not limited to:
Social Isolation
Dementia
Stroke
Parkinson's disease
Alzheimer's disease
Who are physically frail
Benefits for Clients:
Participate in meaningful programs that are designed to focus on the individual person, their abilities and strengths
Expand friendships
Maintain knowledge and skills
Reduce anxiety & stress
Strengthen mental well being
Decreases social isolation
Sharpen cognitive skills
Enhance health through daily exercise
Enjoy a daily nutritionally balanced meal
Benefits for Caregiver / Family Members:
Provides respite, some personal time for caregivers, knowing your loved one is engaged in meaningful activities, in a safe environment
Allows the time for caregivers to attend to their own health & well-being and enjoy personal time, such as appointments, leisure activities, meetings, coffee with friends, reading, and housekeeping tasks.
Dates, Times & Location
The Ocean View Adult Day Program currently runs 4 days per week.
Monday, Wednesday, Thursday & Friday
9 am to 2:30 pm
Ocean View Continuing Care Centre
1909 Caldwell Road, Eastern Passage
Fees:
The Adult Day Program is $29/day, this includes, activities (both physical and social), socialization, snacks/refreshments and a nutritionally balanced lunch. To optimize on the therapeutic value, attendance is a minimum of 2 days per week. Fees are reviewed annually.
How to Apply:
To apply for our Adult Day Program please download our program application and physician report by clicking below:
Adult Day Medical Assessment Report
For more information, or to learn if your loved one qualifies for the program, please call the Adult Day Program manager at 902-465-6020 or email adultday@oceanv.ca