Information for those being transferred to the Ocean View RCU
The province has recognized the need to support long term care (LTC) homes differently to prevent the spread of COVID-19. Regional Care Units will allow LTC residents who are ill with COVID-19 to be transferred to a space where they can be cared for by teams who are specially focused on COVID-19 infection prevention and care. Ocean View in Eastern Passage has been chosen to manage the Regional Care Unit (RCU) for the central region, and is now ready for admissions.

Ocean View has a long history of providing quality care to local seniors, and has been accredited by Accreditation Canada since 1974 for upholding standards of excellence in care.
As an organization whose vision is to be the community of choice for Nova Scotian's needing support, we feel it's our duty to be a part of our province's COVID-19 solution, and we are prepared to step into the important work of caring for those who are most vulnerable at this time.

An incredible staff team has been recruited to do this important work – they truly are the real life healthcare heroes our community needs right now.
The staff team will include nurses, CCAs, and facility support staff who will operate the RCU as a stand-alone unit. They will work in a space that has been totally prepared to support them in their important work. Technology has been put in place, physician coverage is ready, and Personal Protective Equipment and supplies are fully stocked.

Although the RCU is not yet needed, the team has been fully orientated and well-trained on infection prevention protocols so they are ready to step into this important work as soon as a COVID-19 positive resident is transferred to our care.

Ocean View has also worked with Nova Scotia Health Infection Prevention and Control experts to ensure the RCU is ready to properly and safely care for long term care residents who are ill with COVID-19.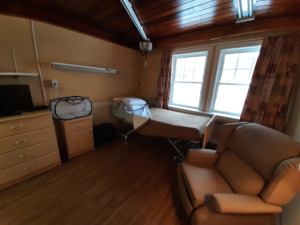 What will you need to know if you or your loved one are transferred to Ocean View's RCU?:

– Should a resident in one of our identified partner facilities become positive with COVID-19, their home facility will communicate with the resident / family about the illness and transfer, and will provide information to the Next of Kin regarding how to contact the Ocean View RCU following the resident's transfer.

– Residents will be transferred from their home facility to the Ocean View RCU via EHS/ambulance.

– Residents in the Ocean View RCU will continue to receive care in line with their established goals of care, and in line with the level of care they have come to expect in long term care.

– In preparing the Ocean View RCU, we have taken quality of life for residents into consideration and have incorporated all we can to help lessen feelings of isolation, including the opportunity for telephone and cable.

– Should it be needed, the Ocean View RCU team is prepared to work with families to coordinate palliative visitation.

– Ocean View's mission is to provide comfort, care and compassion to those we serve, and this extends to those within the Ocean View RCU. We are prepared and ready to support you at this time.