Many Staff and Designated Caregivers at Ocean View have received the COVID-19 vaccine, and the nursing home is thrilled to begin offering the vaccine to residents as early as next week.

"I'm thrilled to receive the vaccine," says Ocean View RN Amy, "it's one more thing I can do to help protect my family, community, and residents."

Many residents are patiently, but eagerly, waiting for their chance to also get in line.

"Now that I'm getting older – whether I like to admit it or not! – I think getting the disease is worse than getting the vaccine," says resident Mo, "I think it's a good thing. If I have the chance to get the vaccine, I'll take it!"

Many residents are remembering days gone by, and can recall real examples of the positive change vaccines can bring. Resident John remembers having polio as a child, and needing to be quarantined for many months. The pandemic has been reminiscent of that time for him, and he's eager for himself and his loved ones to get the vaccine.

"I'm all for it," John says, "When you look at all the people that died all over the place for no good reason, once you have something to help, you better hurry up, and get to the front, and get it!"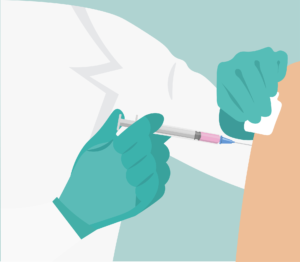 The news of upcoming vaccinations is also a sign of hope for residents, who have faced many challenges during the pandemic, including fear of COVID-19 and frustration with restrictions.
"I'm thrilled to receive the vaccine because this is the first step to better days ahead for our residents at Ocean View," says Ocean View Neighbourhood Manager Krista.
"You know a lot of other residents have been scared," says resident David, "At least if you've got the vaccine, you'd be a little more relaxed."
The toughest part of the pandemic for David has been the restrictions preventing LTC residents from leaving their home freely.
"(Before the pandemic) I went out every day," he says, "I'd get an order of French fries, and watch the seagulls. I'd visit the graveyard… I haven't been there since March of last year."
David is hopeful that the vaccine is a step in the right direction, and a sign that life will eventually return to normal.
"Let's get 'er started," says David.